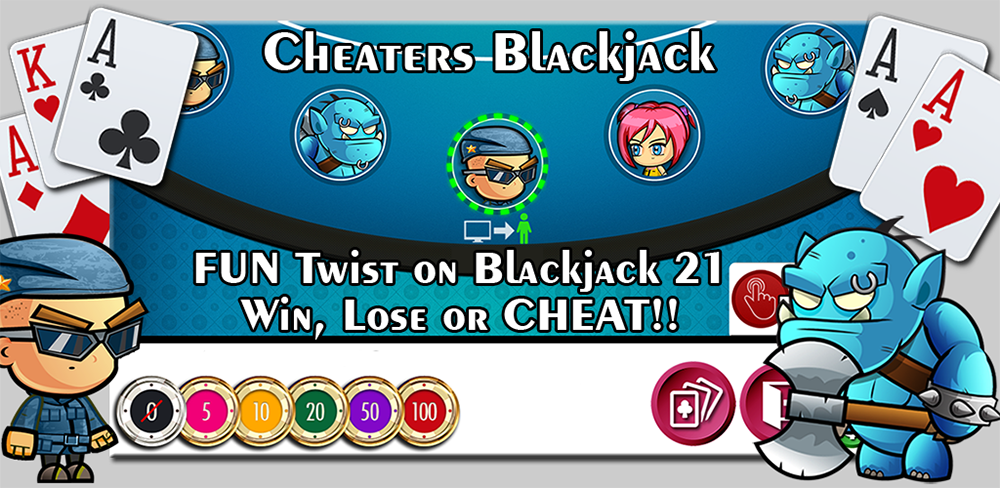 Casino Blackjack 21 with a TWIST!! Cheat and Play against Cheaters to Win Cash. Cheaters Blackjack 21 updates the Classic Casino Gambling Game with Cheating, Wild West Type Showdowns, 6 Game Modes and Worldwide Hi-Score Leaderboards. Available on STEAM, Google Play, Amazon, SlideMe and other game portals.
CHEATERS BLACKJACK 21 adds the 'Cheating' twist to the classic gambling game. Cheating steals the next card in the deck and swaps it with the worst card in your hand *IF* it improves your hand (Improve Hand or Avoid Busting). Play against Cheating CPU opponents to win match play and compare your scores to other player Worldwide!! CATCH CPU players to prevent them from cheating to gain advantage. CHEAT to Improve your hand and chances of winning BUT if the CPU players catch you cheating it could spell trouble since they can challenge you in a Old West type showdown for Cash.
Win hands to increase your Cheat Percent. Use Cheat Percent to CATCH Cheaters or CHEAT to improve your hand. Get ready to play the classic casino game like you've never seen it before. You know the rules, You've played this gambling game before, now try it with this exciting New Twist – Casino Blackjack 21, Cheating and Wild West Showdowns – Whats not to Like? Compare your scores to players around the Globe. Good Luck!!
★ CHEAT to Steal/Swap Next Card if Better
★ CATCH CPU Players to Stop them from Cheating.
★ PLAY Multiple Seats to CHEAT Faster. (Each Win Improves Your Odds)
★ DISABLE Cheating for Normal Casino Blackjack Play
★ Colorful HD Player/CPU/Table Graphics
★ WILD WEST Type Caught! CHEATER Showdowns
★ COMPARE Scores against Players Worldwide
★ 6 Exciting Game Modes – 6 Web LeaderBoards
★ Play Alone or with up to 4 CPU Opponents.
★ Perfect for a Quick Game or Extended Match.
★ PLAY the Game Store SLOT MACHINE to Win Cash
★ EASY to Learn. Use Strategy to Win!!
Cheaters Blackjack 21 plays a 100% fair gambling game. There is NO computer peeking or cheating to gain advantage over the player. Each 6 deck shuffle is randomized to maintain fairness. Players also can easily DISABLE cheating mode to practice proper Blackjack gambling strategy in a simulation quality mode.
A Universal App with HD Optimized Graphics. Play on Phone, Phablet and Tablet.
Programmed by BlackOpzFX Labs